Where?
Shanghai is situated on China's central coast and is the country's biggest city and a global financial hub. Its heart is the Bund, a famed waterfront promenade lined with colonial-era buildings. Across the Huangpu River rises the Pudong district's futuristic skyline, including 632m Shanghai Tower and the Oriental Pearl TV Tower, with distinctive pink spheres. Shanghai has been described as the "showpiece" of the booming economy of mainland China.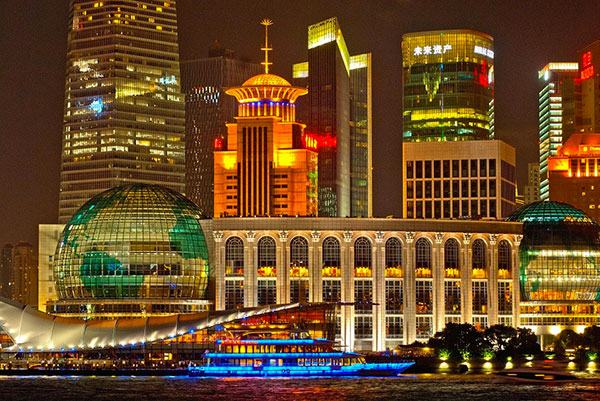 Why?
Top source country:
459,800 Chinese students went abroad in 2014 – an 11.1% growth in outbound mobility over the year before. In the Outline of China's National Plan for Medium and Long-term Education Reform and Development (2010– 2020), the government announced its objective to develop initiatives to further stimulate Chinese students to go abroad for their studies.
Government support and funding:
In the past two decades, the Chinese government has greatly facilitated studying abroad with various measures such as introducing a simplified procedure for obtaining a Chinese passport and by giving more freedom in the exchange and transfer of Chinese and foreign currencies. Studying abroad is actively promoted by government-sponsored financial support schemes. They are administered by the China Scholarship Council (CSC), which annually sponsors around 7,000 Chinese students.
Bilateral relations with leading markets:
As part of the national strategy to encourage outgoing student mobility, the Chinese government has placed a strong focus on creating education links with other countries, which has resulted in national-level education agreements.
ABOUT "INNOVATION IN LEARNING: ACADEMIC PROGRAMMES OF THE FUTURE" FOCUS 2020
Did you know that Arts and Design are the top study trends among outbound Chinese students? Tap into the continuing Chinese demand for such programs abroad with ETN Focus China 2020!
Join us in on a journey to diversify your student body and build real connections with selected qualified Chinese agents for Chinese student recruitment. These event is open to the following institutions: International Arts and Design schools, universities and vocational training providers
Have you ever felt the tremendous stress at big education networking events?
Do you wish to remember people's names and faces once you've left the conference room, and be remembered?
Secure your seat and find out why we do agent fairs differently.
AGENDA
date is to be confirmed
Taking place over 2 days in Shanghai, this boutique agent fair features pre-scheduled one-to-one meetings and other exclusive networking opportunities with a range of selected qualified local parties who work with Chinese students and their families to facilitate access to relevant educational opportunities abroad.
1° day
14:00 - 18:30
Arrivals, check-in at the Hotel
18:30 - 19:00
Event opening and participants introduction
19:00
Welcome Reception Networking
2° day
7:00 - 9:00
Breakfast
9:00 - 9:30
Set up and working table
10:00 - 13:00
One to One meetings
13:00 - 14:30
Lunch
14:30 - 17:30
One to One meetings
17:30 - 19:30
Networking
3° day
7:00 - 9:00
Breakfast
9:00 - 12:00
Check out
BASIC
€2300 + VAT
One-to-one Meetings
Prescheduled appointments arranged by ETN
Info Packages
Full catalogue of programme details, agent details, presentations/seminars and market/location information
Video and/or photo presentation of your institution to all delegates
Hotel (2 nights)
For 1 person
Meals - as shown in the Agenda
Welcome Reception Networking
GOLD
€2650 + VAT
One-to-one Meetings
Prescheduled appointments arranged by ETN
Info Packages
Full catalogue of programme details, agent details, presentations/seminars and market/location information
Video and/or photo presentation of your institution to all delegates
Hotel (2 nights)
A double/twin room for 2 representatives
Meals - as shown in the Agenda
Welcome Reception Networking
Advertising package PLUS
Advertising space within the ETN Focus Magazine and projection of logos or silent video during meetings
Airport transfer
Both ways
Participation for agents is FREE and includes:
Welcome reception Networking

---

Info Packages
Full catalogue of programme details, educators details, presentations/seminars and market/ location information

---

One to one meetings

---

Hotel (1 nights)
single/double or twin room

---

Meals - as shown in the Agenda